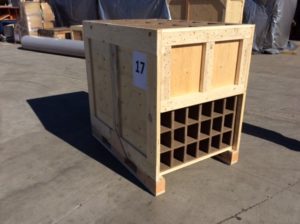 Diversified Logistic Services, Inc. (DLS) has the best valued wooden crates for shipping in all of Southern California. Our wooden shipping crates are expertly designed by our experienced team and constructed using heat-treated lumber. 
Wooden crates for shipping from DLS are built for storage or land, air, or ocean. Our wood shipping crates are ISPM 15 certified for export shipping and meet ASTM and industry standards.
DLS Wooden Crates
DLS is built on our commitment to our reliability, quality, and safety. Our wooden shipping crate options include:
Custom packaging design offering maximum protection, optimized space, and minimized cost

Crating jobs

Cushioned decks, cushioned bases, floating bases, and skidding for crates are available

Custom customer-specific stencils

Custom design to meet customer specifications

Custom shipping crates and wooden production crates

Floating deck and cushioned crates

Heavy-duty crates, pallets, and skids

Hood crates available

Industrial and commercial crating

On-site location handling or DLS facility handling available

Optional ramps, locks, hasps, hinges, and cushion

Packaging design options to maximize shipping

Pallets and skis with 2/4 way forklift entry

Reusable and trade show crates with optional ramps available

Specialization in all types of projects

Tilt and shock monitoring

Total product protection using blocking, tie-downs, bolting, or banding

US government or military specification wood crates
DLS for Your Wooden Crate Needs
At DLS, we build business relationships, both inside and outside of the company, based upon mutual honesty, respect, integrity, and honorable business standards. At DLS, we will always provide services and products that improve our customers' businesses as we constantly seek to deliver innovative and new solutions to our customer's challenges and needs.
Our mission is to provide exceptional value to our customers through a superior assortment of services, products, and problem-solving capabilities. Customer satisfaction is our greatest priority and our most fundamentally rewarding experience.
Placing the highest value on our relationships with customers and vendors loyal to those companies and individuals who support DLS, we seek to be a valued and productive member of our community.
Contact Us Today!
If you have any questions, don't hesitate to reach out to us. We'll get in touch with you as soon as we can. Fill out our online contact form or reach out to us via phone or email for a no-obligation quote.
You can also call our office today at 562-941-3600 or send us an email at info@dispro1.com to discuss your project.
Our office is located at 13033 Telegraph Road, Santa Fe Springs, CA 90670.