Packing, Installation & Crating Services
DLS has packed and crated a wide variety of cargo. From a 150,000 lbs hydraulic presses and production line machinery for export, the an enormous Caltech telescope lens, oil field equipment, entire water treatment systems, massive compressor skids, data center server racks, generators, Clean rooms, CNC, lathes and mills, production lines, and much more. We will expertly pack and install your products into our custom crates export packing (and domestic shipping), shipping and rigging services offer a full array of commercial and industrial packaging and crating services.
Less Stress, No Surprises.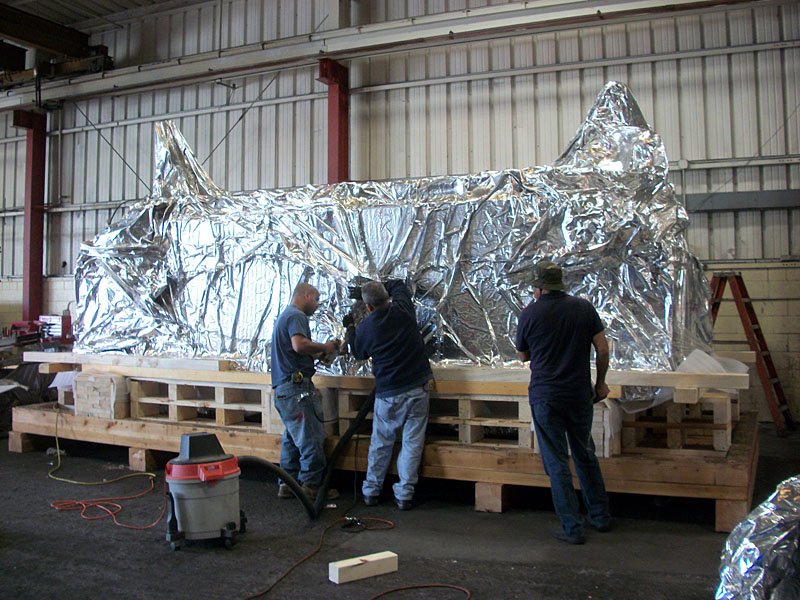 DLS's expert team will help you select the best, and most cost-effective way to package, protect and ship your cargo. We handle the entire logistic details of your shipment so you don't have to worry about it! DLS expert will custom package and provide crating services for most any commodity from aerospace, artwork, medical equipment, computers, electronic equipment, heavy machinery and more. Let our expert packagers help you so you do not have to allocate your production team members to packaging your products, allowing you to not lose any production time.
Our professionals at DLS will work with you through every step of your project to pack, crate & ship anything you need.
Uncompromising customer focus
Our outstanding performance record, joined with our professionalism, attention to detail, and experience/expertise, brings our customers back again and again for all their rigging and moving needs. We have the equipment and experienced staff to get the job done.
Custom Packing Installation and Crating:
On-site packing & crating
Custom Crates
Custom Saddles
Outside Processing Containers
Skidding
Hood Boxing
Palletizing
Slat or Skeleton Crating
Container Blocking & Bracing
Vacuum Packing
Lashes & Ties
Custom Cushioning
Barrier Bag Packaging
Vapor Barrier Packaging
Stretch Wrap
Shrink Wrap Film
Long or Short Term Storage
DLS is Built on Commitment: Reliability, Quality and Safety
Contact Us for a No Obligation Quote or to Discuss Your Project