Packing, Insulation and Crating On-Site or at our Warehouse
DLS offers full-service export packing, insulation, Mylar bagging, anti-static, and shipping and rigging company, we offer a full range of commercial and industrial packaging and crating services for a wide range of commercial and industrial goods and equipment.
DLS has packed and crated oil/water treatment plants components, medical machinery, CNC machines, electric motor generators, industrial air compressors, data center server racks, generators, telescopes, presses, lathes and mills, production lines, aerospace equipment and more for export.
DLS has a team of experts to help you choose the best and most economical way to protect your cargo for shipment or storage. We are experts at custom crating, heat shrink wrapping, barrier bagging, anti-static, moisture protection, anti-shock, hood boxing, trans-loading and ocean container loading.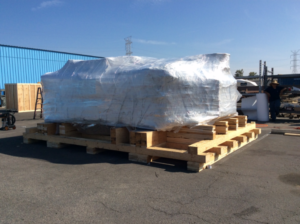 Export Packing & Crating
We are your one stop/single point of contact for export packaging and crating that requires specialized designs, lumber and documentation.
Large & Extremely Heavy Items
No item is too big or too heavy, items can be packed and crated for shipment or storage. We specialize in export packing and crating for the Port of Los Angeles and the Port of Long Beach California.
We offer barrier bag packaging, vacuum bag packaging, cushioned crates, export crating, shipping and project management services.
Custom Packaging and Crating Services Nationwide
DLS is your single point of contact to handle all the details of your shipment.  We custom package and provide crating services for most any commodity from artwork, medical equipment, computers, electronic equipment, heavy machinery and the aerospace industry.
DLS prides themselves in the customer service provided to every project no matter the size.  Our outstanding record coupled with our professionalism, attention to detail, and experience, brings our customers back again and again for all their rigging and moving needs.
Each Crate weighing over 90,000 lbs. loaded into break-bulk ocean cargo freight.
Aerospace tooling blocked, braced, bolted and secured before final crate is enclosed.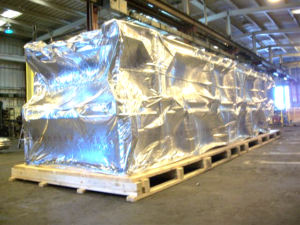 Mylar bag before final crate is assembled.
Final Crate
DLS is Built on Commitment: Reliability, Quality and Safety
Contact Us for a No Obligation Quote or to Discuss Your Project
DLS a Packing and Crating Company