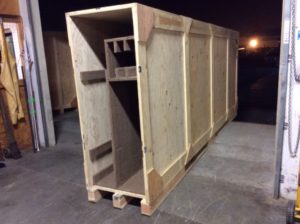 It can be challenging to guarantee the safe travels of fine art sometimes. Fine arts handling can prove to be a big chore, from choosing the best and most reliable mode of transportation, building the most durable crate, and finding the proper packaging. Thankfully, DLS Pro has the best fine art wooden crate packing Los Angeles has to offer!
Who We Are
Diversified Logistic Services, Inc. (DLS) provides Los Angeles with extra large wooden shipping crates that are all constructed using heat-treated lumber and expertly designed by our experienced team of professionals. 
Versatile and built for storage on the ocean, air, or land, DLS extra large wooden crates are ISPM 15 certified for export shipping and meet ASTM and industry standards.
What We Offer
At DLS Pro, we understand that keeping your fine arts collections safe and secure during transit is very important.
DLS Pro welcomes the opportunity to assist museums, galleries, and private parties with choosing a crating and packaging solution to meet your needs. We're happy to help with all of your fine art needs, including family heirlooms, sculptures, and antiques. 
DLS Pro for Your Fine Art Wooden Crate Packing
Our mission is to provide exceptional value to our customers through a superior assortment of services, products, and problem-solving capabilities. Our customers' satisfaction is our greatest priority and our most fundamentally rewarding experience.
We pride ourselves in building business relationships, both inside and outside of the company, based upon mutual honesty, respect, integrity, and ethical business standards. WeHere at DLS, we will always provide services and products that improve our customers' businesses here at DLS Pro. We constantly seek to deliver innovative and new solutions to our customer's challenges and needs.
We always place the highest value on our relationships with our customers and vendors, loyal individuals who support DLS. We seek to be a valued and productive member of our community.
Contact Us Today!
If you have any questions, don't hesitate to reach out to us. We'll get in touch with you as soon as we can. Fill out our online contact form or reach out to us via phone or email for a no-obligation quote.
You can also call our office today at 562-941-3600 or send us an email at info@dispro1.com to discuss your project.
Our office is located at 13033 Telegraph Road, Santa Fe Springs, CA 90670.